THE GREAT BARRIER REEF, QUEENSLAND
The Great Barrier Reef is a World Heritage listed natural wonder of the world composed of 3000 individual reefs that stretches for over 2500 kilometres. Most of the reef is protected, under the title as the largest marine reserve in the world. Comprising a disjointed maze of 2900 separate coral reefs and coral cays, the Great Barrier Reef is made up of billions of tiny living organisms.
Whatever you may read about the beauty and wonders of the Great Barrier Reef it can never compare to simply being out on the Reef. Regardless of the size of the vessel you choose to cruise out to the reef in, your perspective will change as soon as you and your vessel venture outside the inlet of Port Douglas. The sheer size of the reef is awe-inspiring; it is not until you are actually beyond the Port Douglas inlet do you realise that the Great Barrier Reef is massive expanse of ocean comprised of a huge marine ecosystem of over 2900 separate coral reefs and cays or low lying sand islands. Contained within these reefs are billions of tiny living organisms that support an ecology of some thousands of other species.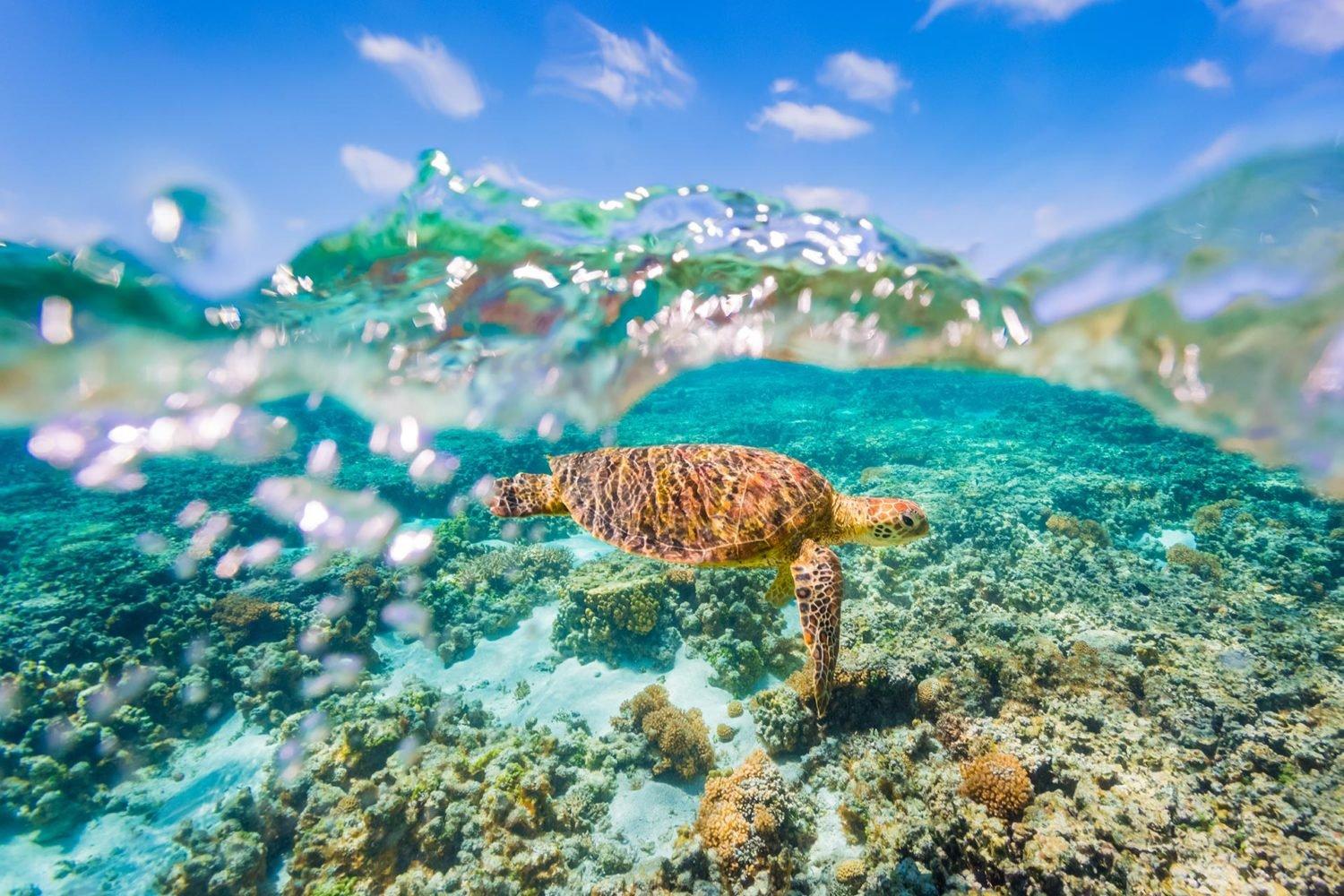 1500 of the world's 13000 species of marine fish
360 species of hard corals
600 species of echinoderms (starfish, sea urchins, sea cucumbers)
629 species of seaweed
6 of the world's 7 species of marine turtles
215 species of birds (including 40 species of seabirds)
14 000 dugongs
130 species of sharks and rays
Dwarf Minke Whales (May to September)
Humpback Whales (July to September)
Dolphins and porpoises
14 species of sea snakes
5,000 species of mollusks (giant clams, octopus, cuttlefish and squid are also types of mollusk).
UNFORGETTABLE EXPERIENCES
If this will be your first underwater swimming experience you will discover a completely new and exhilarating world where the fish with their jewel like brilliance, and intriguing shapes and colors of other marine life, will leave you awestruck as you glide over the reef culture.
You will experience real delight in watching and swimming alongside the vibrantly colored fish and turtles moving freely in their natural environment. To enter this extraordinary tropical under water world all that's needed is a glass fronted mask, a snorkel, pair of flippers and a desire to experience the Great Barrier Reef first hand.
With a few tips from your instructors, once you are in the water you will glide effortlessly over the fragile coral and be amongst the many species of fish in the Coral Sea. This is a must do experience in a lifetime, even if you only ever do it once.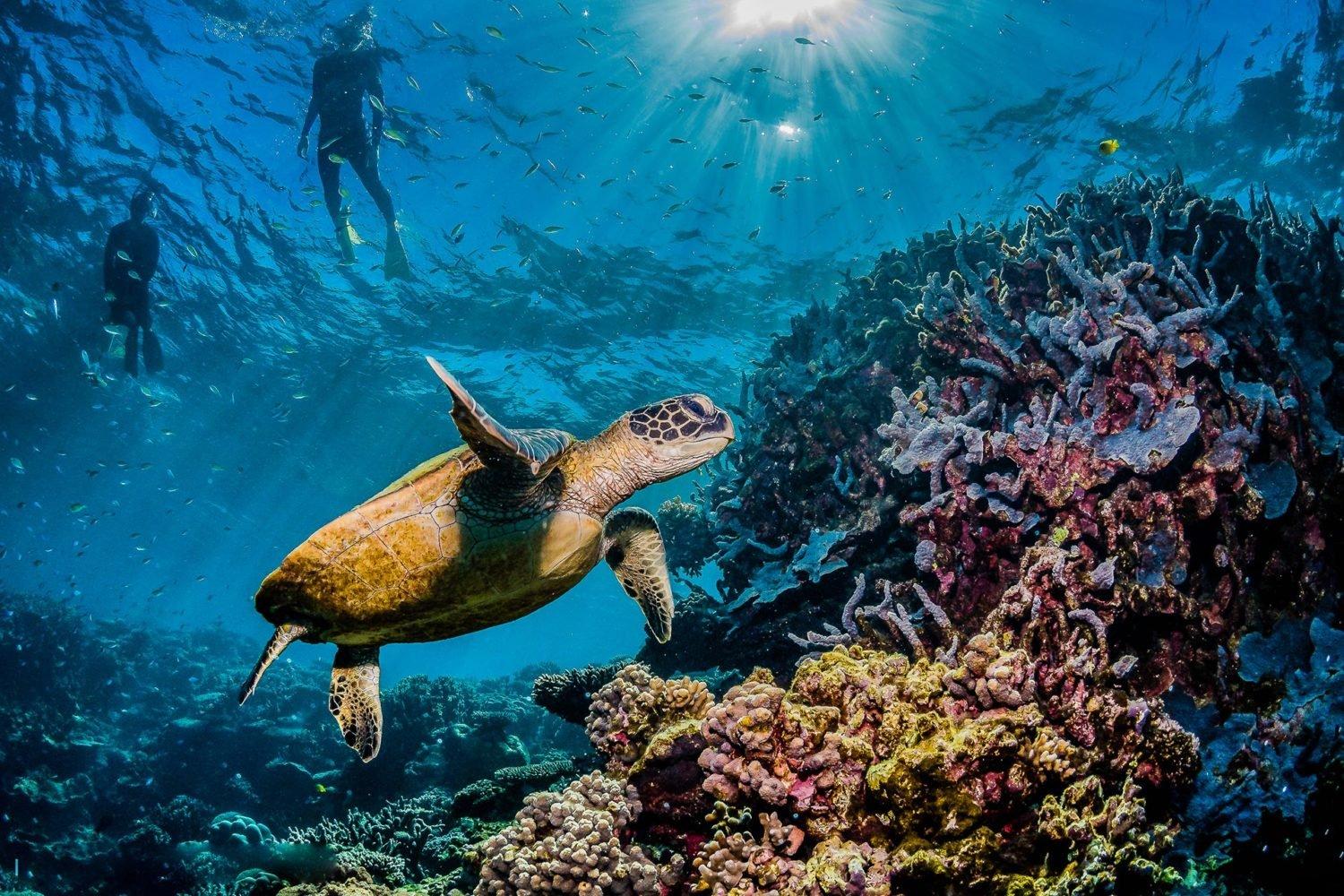 From Port Douglas the Low Isles is a wonderful day trip just 45 minutes away. You'll find a small group of two sand cays with pristine white sands an ideal spot for picnicing and swimming. Snorkelling offshore will take you out to the fringing reef where you can check out the soft and hard corals and the dazzling array of marine life that live in and around the reef. To take full advantage of your snorkelling experience choose a calm day when the wind is under 15 knots. Moderately high seas tend to stir up the sandy bottoms reducing your view below. Also to watch out for are the green turtles which can be found in and around the island waters. They also come to shore and nest in the sandy beaches. There are a number of options to transport you to the Low isles from glass-bottomed boats, small catamarans, larger catamarans and yachts. For those that require immediate transit can take a jet boat. All tours include lunch and snorkel gear. Just ask at our tour desk for our recommended boat. Bookings through reception at your accommodation in Port Douglas are at no additional charge and can be billed to your room.
TRIPS TO THE OUTER BARRIER REEF
The Agincourt ribbon reef on the edge of the continental shelf lies one and a half hours away for more adventurous snorkellers or diving enthusiasts. These tours also include lunch, snorkelling gear and lycra suits. Other reef experiences include the Tongue, Opal and St Crispins reefs. With up to 13 vessels departing daily from the marina in Port Douglas to various sites there is sure to be one right for you. Included in most tours is a complimentary pick up and drop off from your Port Douglas accommodation. The staff on our tour desk have a wealth of local knowledge and can advise you of the weather, tides and the boat most suited to your needs. Bookings through reception at your accommodation in Port Douglas are at no additional charge and can be billed to your room.